Edward Massey Books pulls together my writing. Some of it preceded the date this site started. Other sites may change and the links may go bad, so blogs from other sites are shown here. You are welcome to respond to them on the comment page provided here or on the main comment page of this blog.
Western Fictioneers — Friday Five
by Edward Massey
published on westernfictioneers.blogspot.com on December 13, 2013
"Get thee behind me, Satan," was a common, not to mention, frequent, admonition of my childhood.
Cheryl's request that I participate in her "Friday Five" blog session posed a real issue of how intensely personal to get in answer to what are simply five fun questions. I suspect all Westerners don't feel comfortable standing out all that much, even if they do choose to be writers. Yet all Westerners worth their salt live up to their promises. And I promised. So, "Get thee behind me, Satan," here goes.
1. Most exciting day of your life was?
I hope, someday, you all meet my wife, Anne. The day I met her, I was at an Elizabeth Kubler Ross workshop on "Life, Death, and Transition." The heavy title and the subject matter did not deter someone from saying something very funny. I laughed, perhaps a little exuberantly. Anne turned around and smiled. We married sixteen years later. (Since this is being published on December 13th, in five days, that will be ten glorious years ago!) (You may notice, those are not mountains or prairies behind her. She's a Mainer.)
2. My favorite food is?
This is not an advertisement and I am not a proselytizer, but I am vegan. Once, my ambition was to eat in all of the Michelin Guide's Three Star Restaurants in France — and I did. I asked Anne, whom you met in the answer above, to marry me at Lucas Carton, in the Place Madelaine, in Paris. I told you what I am coming up to in five days, so you know it worked. A little over two years ago, I concluded I had to bite the bullet (a minor Western analogy) and I became vegan. Let me assure you, however, one can still eat very well — and, rest assured, wine is a plant-based extract!
3. My favorite car I ever owned was?
Once upon a time, like October 16, 1987, a young man who worked very hard at his business finished a third day of helplessly watching the Dow decline first 95, then 58, and, on Friday, 108 points, in all an 11.6% decline in those sickening three days. He decided the amount of money he lost would have bought a Porsche 930 Turbo. He would have had a lot more fun and that investment in a little black rocket ship would never have lost as much money as the Dow. First thing, Saturday, he bought one. Monday, October 19, Blackest of Black Mondays, he put his theory to the test. Despite the 162 promised in the owner's manual, he could not get it to top 155 mph. It didn't bother him at all. The Dow lost 508 points, 22.6% (equivalent to a 3,525 point decline in today's terms). It took him more than ten years to work up the confidence to sell the best investment he ever made.
4. The best book I ever read is?
An impossible question to answer, but I can tell you about a conversation that had the most impact on my thinking about writing in the past year. In a much abbreviated form and relying on the kind permission of John Nesbitt it went something like:
"My book's about a sheriff and his posse in 1948," I say in answer to John's gentle inquiry.
"Have you read, Montana, 1948," asks John.
"No, I haven't."
"Well, you might want to read it, just in case someone asks."
And I did. And wow! There isn't room in this blog to say all the reasons it was important, but it is a classic example of when you need a teacher, the universe gives you one. Thanks, John.
5. An interesting fact about my genealogy is?
That my great-grandmother was the second and, we were always told, the least preferred of my great-grandfather's two wives. She arrived in town, soon to be an orphan, as the entire company of Saints had foundered in the snows in Wyoming. After burying her parents, the Bishop grabbed my great-grandfather and explained either in terms that were persuasive or in tones that were not to be ignored that he owed an obligation to take this orphan to wife and provide for her a roof and children. I remember seeing the roof as I grew up. I guess I am proof that he provided children.
A note from July, 2019: As you can see, the blog above was published December, 2013. In April of this year, Fugitive Sheriff was published. I had forgotten this blog and this photo, but here, in fact, is the second Elizabeth married to Luke Simms. One difference: she is not the least preferred.
Ski Utah
One man, one month, 367,000 vertical feet
April 15, 2011
Edward set out with fresh legs to pursue his dream of skiing all that Utah could offer.  Follow his journey as he logged over 367,000 vertical feet of skiing across Utah's 14 resorts.
Ski Utah invited me to write about my January devoted to skiing all eighteen (18) ski areas listed on the web site.
I left the office on January 4 and returned home on February 6  and when I started this adventure I had no idea what the meaning of "all" might be.  Start north, work south, and without even trying, the ski geography of Utah falls in place: four great canyon areas: Ogden, Park City/Parley's, Big Cottonwood, and Little Cottonwood, and the trip South.  One outlier, Beaver Mountain, proved a challenge, but all meant all.
Aware that I was skiing alone, I put an "In Case of Emergency" card inside my jacket, with a local contact and Anne's (my wife) cell phone, and off I went.  From here I am on my actual journey.
1/4/2011 6:09 AM: Off today.  I have had a lot of second guessing myself this past twenty four hours.  It is a clear example of how your life is the result of your own decisions.  I could have lived forever and never decided to do this.  It would have mattered to nobody – but me.
1/7/2011 5:30 AM (mountain time). The travel really gets in the way.  Arrive at midnight, find the car, sleep fast.  Up and over to Utah Ski and Golf by eight o'clock.  They are much better negotiators than I.  Arriving at a month's deal for their Gold package, I was out the door on my way to Wolf Creek.  A small mountain, 1000 vertical feet, an ideal start for someone who lives eleven miles from the ocean. Crystal clear, fifteen degree weather, and 14,500 vertical feet in the afternoon.  That's a lot of runs, made possible with lay 'em flat and let 'em run terrain and no lines. By the end of the day the good man at the lift dismount and I got to know each other pretty well.
Thursday's need to place a cell call forced a change from my original Beaver Mountain plan to Snowbasin – a change that saved me from freezing to death!  Alternator went out.  My electrical system shut down and I rolled into the Phillips 66 in Peterson and met Randy.  No alternators in Morgan County, but he figured a recharge of my battery would get me the 22 miles into Ogden.
Today, back on the road to finish my altitude and physical preparation, I took on Homestead and Soldier Hollow, two of four areas listed as Nordic only. Homestead is not ready for prime-time, but Soldier Hollow, is, in the words of a University of Utah coach I met on the track, "a world class facility. " The finest Classic Track I have ever seen and the skating track next to it perfectly corduroyed.  Every kind of trail, short and long, beginner and expert, and the views were exhilarating.  Two words to the neophyte (me): Bring plenty of clothes.  I soaked through all of my clothes before and after lunch. And when the trail map tells you the trail ("The Hollow") is four kilometers with some challenging uphill, don't think about the uphill.  By the time you have gone two kilometers uphill you are pretty tired and pretty wet, but think only of what now faces you: down.   Muscle fatigue complicates poor technique and cross-country skiing downhill can develop into a catastrophic sport.
1/8/2011 6:35 AM Park City, after taking care of all the chores of moving in,  I lay on my bed lacking energy to do anything but let the passive tv wash over me.  Long sleep, and now I have a few hours to think before I hit the hill in Deer Valley. Whoa!  There is a lot more to this trail map than I remember.  I am going to ski every single lift – without skiing any of them twice.   4 h 23 m later I had accomplished all 21 lifts from the Jordanelle gondola on the left way up near Heber to Lady Morgan on the right. This was a bigger area than I remembered, made incredibly fun by runs like Nabob, Stein Erickson, Orion, Ore Cart, Pearl, and Webster. I even took the Burns and Snowflake lifts, made my goal and the shadows were creeping in.  A moment of self-recognition was a nice reward; I stopped.
1/9/2011 3:09 AM and looking down the hours to a day of cold and sunshine in Park City. I found  a mountain workshop, ski all morning and have a "beyond parallel" experience in the afternoon.  Our instructor, a retired federal officer with the EPA, shared with me a fine sensibility for understanding the highest joy on the hill was to ski well and then to ski better.   Lucky because the much younger other three members of our workshop held that joy was to blast down, barely on the edge of survival, learn nothing, and do it again.  A testament to Steve,  he kept us both happy.
1/10/2011 3:45 AM, what was to be a day of rest devoted to improving my skiing turned out to be a day of even more skiing, closing the lifts after four.  After the very cold, I headed to a jetted tub and some wonderful High Mountain West Distillery rye.  By eight-thirty, I had been asleep for an hour and went to bed.  I had not been to The Canyons since its incarnation as Park West.  What I found was not what I remembered.  Fun from the "Cabriolet" that takes you up to the first gondola to the "Orange "Bubble" right through to 9990.  I could see the boarders were obviously having fun and they didn't bother me.  The Canyons was so massive, it took three or four runs to ski out every lift and two days to ski everything.
1/11/2011 5:53 AM Exhaustion never improves your skiing and today I planned to ski all black runs.  From a chair lift that carries you to the very top, hence 9990, you can ski all black and double black diamond runs.  With a big sign across the superstructure of its entrance: "There is No Easy Way Down," if they said there were black diamond runs, I believe them, but by my fourth run, I couldn't find any.  I swear all I was skiing were double black.
1/12/2011 6:13 AM. A day off downhill, but not to be a restful day.  I plan to take skating lessons at White Pine Touring.  Learning to skate cross-country ski had me out there for almost two hours in the morning, where I was taught much and learned struggle and sweat.  More practice in the afternoon, I never got off the school hill. For a true cross country skier, I suspect it is little more than a practice track, but all I did was practice, maybe that colors the conclusion.
1/13/2011 5:39 AM What can you say about Solitude?  Sweet, small, steep…and confusing.  I spent the whole day lost.  In fairness, when you get down to the bottom of the hill, you get on the lift and go up.  When you get up to the top of the lift, you get off and point your tips downward.  Down is where you go.   So, how lost can you be?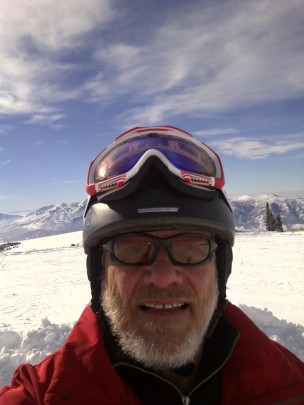 1/17/2011 6:36 AM On the road to the four areas south of Salt Lake City, Sundance being the first on a warm, holiday Monday.  Even a mediocre day skiing beats the best day in the office.  And there was that avalanche in the canyon for excitement.
1/18/2011 8:22 AM Sleeping at 9700 feet and I can feel it.  Off to Eagle Point.  Originally Elk Meadows, dormant about seven years ago, re-started in the middle of Fishlake National Forest.  From the mouth of the canyon to the parking lot at the top lift, 18 miles, and not a car going either way.  I was relieved to pull in the lot and find six cars already there.  The top lift (Skyline) serves a relentlessly sunny and blue mountain with a run (Tunnel Vision)  down to the bottom lift that serves a dark mountain with ten different (black) ways down the hill.  The only blue run involves catching a mountain cat that pulls you up the hill.  It wasn't working that day.
Brian Head is my nomination for the fun family hill of the trip. High, steep, rounded, no sharp edges.  The hill would laugh at you if you tried to be macho. Trees up to the timberline, and 11,000 ft, a few, sturdy, hardy trees.  Glorious.  Wind scours the windward side and dumps on the leeward side, pack – powder – pack, calling for some shifting of styles at times.
1/21/2011 6:21 AM, today to Ruby's Inn. Going to Bryce Canyon for a ski vacation is a little bit like having a dream about a dream.  I search for the best analogy to get across to you how excited one can get.  I have resisted the temptation to pepper this little blog with photos, but I cannot resist.  Yes, those are the tips of my cross country skis peeking out over the rim as we peer down into Bryce.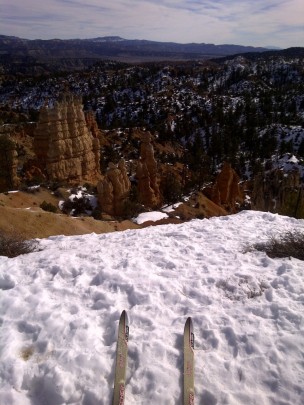 1/24/2011 6:40 AM A day off for the grandeur of Zion and the drive back to Beaver Mountain.  It's a family owned mountain and they watch their nickels.  I understood when they told me that the Beaver's Face lift was shut down on weekdays.  Lots of kids and high school ski teams on the mountain, but not much traffic.  Furthest south to furthest north in two days capped three weeks of ski areas tuning up for the serious stuff still to come.
1/25/2011 5:50 AM: So far twenty days of cold as hell and crystal clear (save one sudden white out at Bryan Head) Utah January and I get to  Snowbasin in a snow storm so heavy the mountain cams couldn't even tell me if the lifts were running.  The next day was Utah bright, sunny, cold, and not windy.  When you skied Strawberry Express, it was hot enough to bring a sweat.  You could ski Snowbasin forever.  Only death would stop you; not an untimely death, just one that comes after 100 years or so.  On the way up the Strawberry Express gondola, I met Lisa Fuller, a member of the Board of Directors of Ski Utah.  She urged me to write this blog.
1/28/2011 5:45 AM After two days at Snowbasin, yesterday at Powder Mountain.  I had never been there before and I had been warned: huge (7,000 skiable acres) and very challenging.  I had set aside two.  A big hill, there is challenge – the lift system is quite a chore with much travelling required.  Great sun and a wonderful place just to be alone, but the place for me to have another day was Snowbasin.  The John Paul Express followed by the Allen Peak Tram (Men's Start picture) is addictive.
1/29/2011 6:30 AM My son, JE, is here, starting the last week. Today in Brighton, a serious mountain that, unfortunately, pales some but the perfect tune up day for JE.  There are actual lift lines and if you aren't careful about where you ski you may have to devote ten minutes each run to inching your way forward.
1/31/2011 5:51 AM Yesterday re-visiting the simple joy of The Canyons.  What a surprising amount of exercise, skiing with four other men.  Alta. First day, snowed so heavily you could barely see your partner but here is the one hill in the world where visibility does not seem to rob one of the experience:  no matter how steep or how uncharted, you are skiing in snow above your knees and just pushing through it takes all your concentration.
2/1/2011 6:25 AM Like the song, I Love Paris,  Alta is the Paris of all skiing in America, a little funky and definitely resistant to change.  The second day's clear sky was the perfect day for a Mountain Adventure.  Again, like the French, they are a little arrogant.  When you sign up they never tell you what you are going to be doing that day, you just take it on faith, and that day it was all mountain conditions.
2/2-3-4/2011 7:00 AM  Three days at Snowbird. The last of my 18 ski areas in Utah.  Very cold. Snowbird has everything for everybody but it is death defying when visibility is poor.  The tendency to ski down the cat tracks is unnerving when you cannot see where you are about to fall into oblivion.  I finally gave up and just skied down the hill.  At least I knew where it was going.
Now I am back home. In their own way, a lot of people asked why I was doing this. Not that it was a dream of mine, at least not any longer than November of last year, but it falls within the whole notion of living your dream.  As I wrote the day I left, life is the result of your own decisions.  People should allow themselves to identify their dreams and live them.    So, my month was over, but it is not gone.  A little daunting, from time to time, getting up each morning and facing another day alone on the hill, but I did it and I will have it forever.
To stay in touch with Ski Utah, click here Ski Utah Yeti
| | | | | | | |
| --- | --- | --- | --- | --- | --- | --- |
| Sunday | Monday | Tuesday | Wednesday | Thursday | Friday | Saturday |
| | | 1/4/2011 | 1/5/2011 | 1/6/2011 | 1/7/2011 | 1/8/2011 |
| | | Arrive 11:56 p.m. | Wolf Creek | "Car'kn'd" out | Soldier Hollow / Homestead (Nordic) | Deer Valley |
| 1/9/2011 | 1/10/2011 | 1/11/2011 | 1/12/2011 | 1/13/2011 | 1/14/2011 | 1/15/2011 |
| Park City | Canyons | Canyons | White Pine Touring (Nordic) | Solitude | David Whyte (poet) retreat | David Whyte (poet) retreat |
| 1/16/2011 | 1/17/2011 | 1/18/2011 | 1/19/2011 | 1/20/2011 | 1/21/2011 | 1/22/2011 |
| David Whyte Retreat | Sundance | Eagle Point | Brian Head / White Out | Brian Head | Ruby's Inn Bryce Canyon (Nordic) | Zion |
| 1/23/2011 | 1/24/2011 | 1/25/2011 | 1/26/2011 | 1/27/2011 | 1/28/2011 | 1/29/2011 |
| Off | Beaver Mountain | Snowbasin – Snowed Out | Snowbasin | Powder Mountain | Snowbasin | Brighton |
| 1/30/2011 | 1/31/2011 | 2/1/2011 | 2/2/2011 | 2/3/2011 | 2/4/2011 | 2/5/2011 |
| Canyons | Alta | Alta | Snowbird | Snowbird | Snowbird | Alta – Snowed Out |
---
Trust and humility go hand in hand
Published on the Telluride Promise website/blog on October 13th, 2009
One should be careful in allowing or expressing feelings of gratitude when good fortune comes at someone else's expense. Within that recognition of humility, I came to a moment where it was appropriate to congratulate my step-son-in-law on an extraordinary career advancement that came his way.
He had the good fortune to be standing at the place of trust when investors, owners, and top management needed to turn to someone to trust. It is very important to know that good fortune is not good luck. Good fortune is born of the skills he brought to the job just a year before. What makes it worth noting is that he built on his starting point systematically with his recognition that improvements were needed and his patient yet determined approach to addressing those needs. He was careful and that meant recognizing when he didn't have the authority or the power to make the changes.
When his superiors terminated his boss and turned to him of an afternoon, he experienced a significant career maker in the course of an hour. He became GM of a half-billion dollar casino and responsible for the continued employment of 1500 who needed their jobs. It was an achievement that will now always be on his resume; more importantly, it is a responsibility that grew and stayed his as he used his time to do the job that he believed needed to be done. The organization needed stability and they looked to him to provide it. With each step, he demonstrated that he provided it and the trust grew. That is the undeniable fact about trust, it comes based on action and it grows based on action.
It also flourishes best in a field of humility. When you find a hard working young man who does his best to deliver on every promise he ever makes, you have to recognize it.
---
Now we have business models that help you cheat
Published on the Telluride Promise website/blog on October 7th, 2009
Forget Acorn and the video tape urging an entrepreneurial prostitution ring. Even an angry partisan could agree there may have been some entrapment trapped in that set up. Now we have a New York restaurant, Maloney and Porcelli that has set up a web site to allow self-important and self-indulgent types who spend too much, like say three hundred bucks for lunch for them and one "client, " to punch in the amount and take back three or four plebeian sized checks to salt their expense accounts. Oh, and if they can't eat all of that $49 filet mignon, the doggie bag provided bears the logo of a much cheaper food establishment like Sbarro.
Now how many people in this equation disgust you? Perhaps you, like the president of the owner of Maloney & Porcelli find corporate penny pinching so disgusting that you believe "just trying to have a little fun with everything that's going on" is absolution? Well, sorry, he certainly is the first one who disgusts me. The notion that you sell a proposition to someone to cheat his or her employer may not, like so much of what goes down in this high tone society, be illegal, but it is disgusting.
How about you're the one who takes him up on it and buys the overpriced food and the wink that you and he are just a little bit better than hardworking people who don't cheat. Well, you disgust me, too.
So, you ask why would I risk getting sued by naming the name of this establishment that clearly does and should not do a land office business in that noble bastion of good business practices, New York City? Well, because they sought out the New York Post to publicize their clever strategy and I am finding rather a few yawns at the tired (have you ever noticed that is a play on "tried") notion of simply living up to your Promise. What if your boss gave you the trust to take someone out to lunch and to try to use that small gesture as an influence on developing new business? That's swell. That means you earned some trust. If he thinks you spend too much after he sends you on this mission, then take it up with him. Face to face. If your client requires that kind of treatment, take it up in client development strategy meetings. If he doesn't require such treatment and you try this end around, you endanger the relationship because my bet in life is that people who don't cheat can smell people who do.
There's the principle to follow: The restaurant stinks, don't go there. The people who go there and cheat, stink. Don't do business with them.
How can you know who to trust? I guarantee you: people who don't cheat can smell people who do.
---
Bankers' promises
Published in The Providence Journal, on Tuesday, June 30, 2009
BECAUSE I RECENTLY published a novel about a banker's promise (Telluride Promise), my editor at The Providence Journal asked me to examine how good a banker's promise is today.
When you were in high school, necking in lover's lane, do you remember one of the six biggest lies? Funny, none were about banker's promises, although one was pretty close, "the check is in the mail."
The original banker's promise — when I take your money, I promise to give it back to you — created the theme for the novel I wrote. The massive breaking of that promise in the early 1930s created the tidal wave that led to creating the Federal Deposit Insurance Corporation and the National Banking Act.
Today it seems as if a second kind of promise has evolved. When I take your money, I promise to put it to work productively. If memory serves correctly, we thought that led to TARP (the Troubled Asset Relief Program).
In the 1930s sort of case, the banker loses your money and says, "Sorry, I can't give it back. You're out your money." In the second, the banker has lost your money, but you're protected by the FDIC, and he says, "Sorry I can't make any new loans because I don't know how much I've lost."
TARP was supposed to prop up failing banks and stimulate the economy. Somehow, the first half of the promise worked (we gave our money). And it did prop up failing banks (including Merrill Lynch and Wachovia).
But stimulating the economy has been a disaster. Large banks are not lending much. We see them sitting on their funds waiting for a better day while claiming not to be facing a demand for loans.
The bankers who took the TARP money and promised to get the economy restarted did so with their fingers crossed behind their backs. Since you can't always see their hands, a closer look was needed. To be sure, not every banker should be painted with this broad brush. After all, only 19 took TARP funds (out of 1,031 banks with more than $500 million in assets, out of the total of 9,429 banks in the U.S.).
In any event, bank lending by large commercial banks (including TARP recipients) fell 2.3 percent from November 2008 to May 2009, while lending by small domestic commercial banks rose 5.6 percent over that same period, according to the Federal Reserve.
TARP appears mainly to have kept weak banks from failing and its funds appear mainly to have been used by large banks to maintain liquidity. TARP does not appear to be leading the way in restoring bank lending.
True, banks have been kicked around like soccer balls. People say: They lend too much and standards are too loose; they lend too little and standards are too tight. Banks have too little capital in part because their balance sheets have been distorted by government rules. Maybe it is even true the large banks were forced to take capital they didn't want. It is certainly true that the ones who have hung around to be vilified and insulted by criminally uninformed congressmen who demand they work for nothing are not the bad guys from the truly failed institutions. The latter are basking on the beach with their severance packages.
Maybe there are subtleties in the giving of a banker's promise. There is the promise that a banker will keep if it's convenient. Everyone wants to keep a promise if it is convenient. Then there are promises bankers can't keep. If asked, you'd be told that never happens; yet over the past decade the number of such broken promises has grown dramatically.
Not merely inconvenient. What we are talking about here is promises impossible to keep from the outset — for example, the whole field of derivatives investing. Such investments are based on a premise akin to an engineer secretly redefining the laws of aerodynamics. That will simply not keep the jumbo jet aloft. Scorn is the appropriate reward here, not excessive compensation. If you are among the people who promise something you know is impossible to deliver — or you do not even know it is impossible to deliver — you deserve scorn.
Look at the Government Accountability Office report of June 12. One sees that of the roughly $700 billion in TARP funds, about 48 percent has been disbursed and 60 percent ($200 billion) of that disbursed for "capital purchase" — throwing money at failing banks.
Of the roughly $430 billion that had been allocated to intervene directly in economic activity (such as the Consumer and Business Lending Initiative and Making Home Affordable programs) only 13 percent ($90.5 billion) had been disbursed and more than half of that had gone into the Detroit bailout.
What we have is the debasing of all promises made in our society.
A banker's promise is as good as the banker is. The Treasury Department's promise is as good as a bureaucrat is. And don't forget Congress.
I have only two prescriptions: First, give the money directly to people. Let them save their homes and finance their companies. There will be losses, to be sure. Observation shows, however, that risks taken have resulted in greater gains than losses since, well, the creation of coin. Second, we should insist of our institutions and leaders that there be a very special kind of promise. The kind you keep.
W. Edward Massey's novel, Telluride Promise, is about a Colorado banker who went to jail for choosing to live up to his promises. It's available on amazon.com.